The Hannover Messe starts on April 24, 2017, and we are again excited to see what awaits us. There is one specific topic that stands in the foreground: The lead theme of the Hannover Fair this year is "Integrated Industry – Creating Value".
What does this mean? Among others, digitally networked production facilities, innovative production processes and novel industrial robots will be showcased by the exhibitors.
This year it is all about digitalization, Industry 4.0 and other brand new topics which will be of significance for the industry in the future. What does this future look like, and with which solutions can we start to tackle new challenges?
The topic Industry 4.0 has already been covered in one of our previous articles. Today, the majority of companies are aware that this topic will play a decisive role in the future. But, what is the best way to begin using it? At this fair, solutions will be presented which make it easier for companies to recognize the benefits they can derive from digitalization in the long term and which tools are suitable for their individual business concepts and respective products. As is elucidated on the website of the Hannover Messe, this does not only concern the "Big Players".
"With Industrie 4.0, integrated energy, digital twins, predictive maintenance, digital energy, and networked and collaborative robots (cobots), companies of all sizes today have a multitude of high-tech solutions to choose from. But often they find it difficult to predict what value these sorts of solutions might add. Many understandably balk at committing to major capital investments without concrete prospects of measurable benefits. Which is where HANNOVER MESSE 2017 comes in. The world's biggest industrial technology show will demonstrate how even companies with limited resources can pinpoint and harness the power of digitalization."
Humans are indispensable for the success of a company
Not only tools and programs are important: "However, despite the ongoing and rapid spread digitalization, people will always be absolutely critical to success in industry. That is why HANNOVER MESSE's motto of "Integrated Industry – Creating Value" applies just as much to people in industry as it does to plant and equipment", explain the organizers. "Industrie 4.0 technologies will add value to factory workers' duties by making them more interesting and varied. Instead of focusing on repetitive manual tasks, factory employees will increasingly be called upon to solve problems, make decisions, innovate and drive value-adding initiatives."
This means, that it will be necessary for each individual to get prepared for this new working world by qualifications and education… "[…] training tools will include virtual reality applications, smart glasses, smart phones and tablets."
These tools play a prominent role at the Hannover Messe 2017 and will soon be firmly integrated in our working life. Our private life is unimaginable without smart phones and tablets. Everybody knows them – everyone uses them. But what about Virtual Reality or Augmented Reality?
We associate Virtual Reality with glasses which enable us to see a "virtual reality". It is a world created by a computer that can be controlled by movements of the hand or head. This world is programmed with the aid of computer graphics so that the environment looks realistic.
Augmented Reality on the other hand is the integration of computer-generated information and visual representations into real-world environments.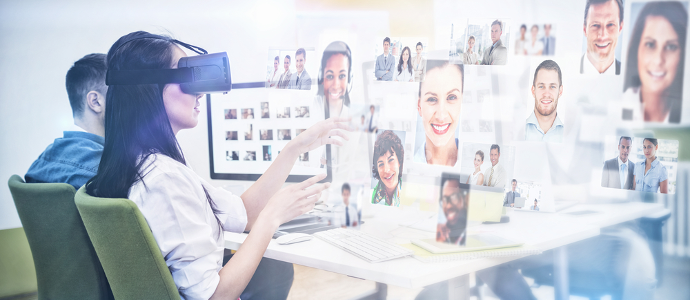 depositphotos, Wavebreakmedia

An open attitude to these tools in connection with Industry 4.0 is an essential factor of success for companies as well as for employees.
Effective use of Big Data
Another exciting topic is Big Data. This term refers to very large quantities of data which are stored and processed by special applications. This enables companies, for instance, to gain new insights and to better understand the purchase behavior of customers. But it is also very important for production: Big Data helps you to optimize and organize processes in a more flexible manner. Indeed, the correct use is crucial, as otherwise there is a risk of getting lost in the "data jungle".
"The secret to big data is using it right: You only benefit from this technology if you can derive useful conclusions from the stored information, and connect it in the right ways." (source)
If this piqued your curiosity, you will find more important facts about the Hannover Messe here.
Of course, our team will not miss out on this event. If you are interested in seeing some of our products 'live', just drop by our stand D23 in Hall 25.